ADB's Premium broadband gateway is the new Swisscom's Centro Business 3.0 platform
10Gbit class device which fully exploits capabilities of XGS-PON network
Equipped with latest Wi-Fi 6 technology, Thunder AX provides smart and ultra-fast wireless connectivity
Secure site-to-site communication (VPN IPSec) with speed up to 1.5Gbit/s
Built-in 10 Gbit/s Ethernet LAN port
Powered by ADB epiCentro™ OS, compatible with Software Defined Network architecture (SDN)
27 October 2021 – Geneva, Switzerland: Swisscom, the leading telecommunications provider in Switzerland, chose ADB's Thunder AX for the new Centro Business 3.0 broadband platform, dedicated to the B2B market. Thunder AX working in Swisscom's XGS-PON network provides premium broadband services to small and medium-sized businesses.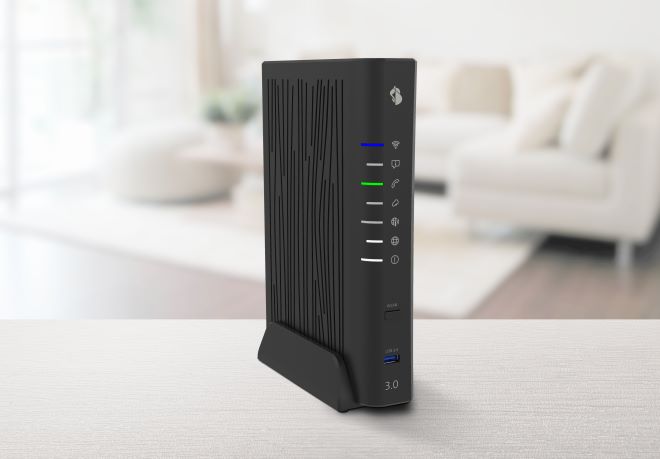 Thunder AX is equipped with the Qualcomm® Networking Pro 800 platform. Working in the XGS-PON network, it enables symmetric data transmission speed up to 10Gbit/s. The ADB gateway uses the latest Wi-Fi 6 technology to ensure reliable and ultra-fast connectivity to all wirelessly connected client devices. The device meets the highest WPA3 security standard for wireless communication.
Thunder AX offers smart Wi-Fi which uses a set of algorithms to ensure the best performance and connectivity conditions for the end-users. Moreover, it utilizes 160Mhz-wide Wi-Fi channels which are essential to provide real gigabit transmission speeds.
Thunder AX ensures secure site-to-site communication (VPN IPSec) with speed up to 1.5Gbit/s, connecting more employees working in different branch offices.
Swisscom users will take full advantage of a real 10Gbit/s connection thanks to a dedicated Ethernet LAN port built-in Thunder AX to connect the entire company's private network and its devices.
Thunder AX is powered by ADB's proprietary epiCentro™ software which is compatible with Swisscom's Software Defined Network architecture (SDN). Used by enterprises, it securely connects users to applications in the clouds and frees small and middle-sized businesses from investing in powerful and expensive equipment.
Thunder AX also provides high-quality IP/HD and analogue telephony services, indispensable for the companies' operation.
Thanks to the modular architecture of Thunder AX, Swisscom can deploy it in different access networks. This includes copper G.Fast, FTTH P2P and XGS-PON, where the WAN connection will be based on different SFP modules.
"It's a great pleasure to work with Swisscom, a truly innovative and future-thinking company. We're delighted that Thunder AX has been selected for Swisscom's next-generation broadband platform for the B2B market. Thunder AX has been designed as a premium solution. Its deployment in the Swisscom network will definitely utilize its enormous capabilities" – said Radosław Piórek, Head of Extended Broadband Business division at ADB.
"We are looking forward to the further established cooperation with our longstanding partner ADB. With the new platform, we have covered strategic requirements in the best way so that we can stay prepared for the changing technology mix in Switzerland in the long term. Our customers can expect the familiar software-based benefits of Centro Business, while smoothly benefiting from the hardware evolution and associated technology as well as performance advantages" – said Marcel Nagler, B2B Product manager "Connectivity LE" at Swisscom.
About ADB
For 25 years ADB has been empowering Pay-TV and Telco operators worldwide to provide access to digital entertainment and broadband connectivity.
ADB combines its innovative thinking with long time experience and apply it to create a variety of software products, which, with its hardware expertise, result in complete and efficient system solutions.
Today ADB offer is addressed to Pay-TV and Telco operators, content distributors and hospitality property owners.
About epiCentro™
epiCentro™ OS is a multi-service Operating System for broadband gateways. In addition to standard connectivity and thanks to its modular architecture, it accelerates deployment of new applications and services. epiCentro™ OS is hardware agnostic and has been deployed by major telco operators on more than 30 million devices worldwide.
epiCure™, integrated with epiCentro™ OS, is a real-time monitoring, diagnostics and troubleshooting platform which allows the operators to identify problems with the CPEs or in the network and proactively react to reduce customer care cost.
For more information, visit www.adbglobal.com/
Qualcomm is a trademark or registered trademark of Qualcomm Incorporated.
Qualcomm Networking Pro Series Platform is a product of Qualcomm Technologies, Inc. and/or its subsidiaries.