CANAL+ Polska subscribers can enjoy a premium entertainment experience with Live TV, on-demand and streaming content through CANAL+ hybrid set-top boxes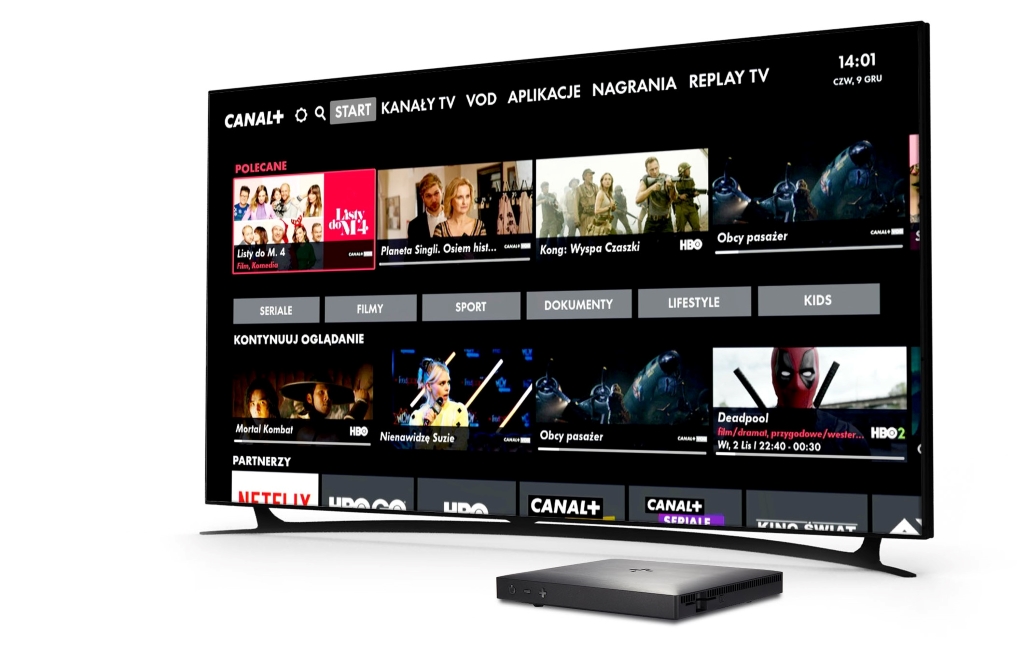 10 December 2021 – Geneva, Switzerland; Warsaw, Poland: CANAL+, the leading Polish Pay-TV operator has selected ADB's graphyne3™ Pay-TV Management System and STB client software to launch its next-generation of service to its subscribers. As part of this launch, the ADB graphyne3™ user interface has been customized to match the style of the CANAL+ online service.
The new solution offers CANAL+ subscribers an upgrade to currently deployed set-top boxes to the most up-to-date functionality. This includes Catch-up TV which allows easy access to already transmitted video content without the need to record it, the restart of ongoing programs, and access to a vast number of online video libraries and streaming applications such as Netflix (other SVOD services are soon to follow). All these on top of the traditional satellite Pay-TV, using a modern graphyne3™ UX framework.
With the new graphyne3™ system and a fully configurable user interface, CANAL+ can constantly adapt the experience to the users' needs and according to its business strategy. The operator gets a perfect tool, specifically designed to provide its customers with personalized content recommendations.
The new service will first be available to some subscribers using UHD CANAL+ STBs as a pilot deployment which starts in December this year. In Q1 2022, all users of UHD set-top boxes should receive the update to the new functionalities and CANAL+ online user experience.
Commenting on the new deployment, Jacek Galik, SVP Sales at ADB, stated the following: "The long-term relationship we have with CANAL+ is a great example of continuous evolution and advanced development that adapts the already deployed set-top boxes to ever-changing market needs. Once again, we worked closely with the CANAL+ team to deliver modern and attractive edition of the operator's service that all subscribers will appreciate. With the introduction of our graphyne3™ system for CANAL+, a leading Tier 1 operator, our expertise in Pay-TV systems and software integration is reaffirmed."
"CANAL+ subscribers will soon get access to the modern solutions that combine traditional TV service with the world of VOD. This is a gigantic and important step for us, which will extend the functionalities of our top set-top boxes, and completely change the TV experience". – says Artur Przybysz, vice-president of the management board for sales at CANAL+ Polska.
About CANAL+ Polska
CANAL+ Polska is a leading producer of premium and thematic channels, offering a unique combination of premium content, modern technology and broad distribution. With approximately 2.7 million clients as at 31 December 2020, it is the second largest distributor of pay-TV packages in Poland with a traditional Polish pay-TV market share of 20.4%.
CANAL+ Polska operates a satellite platform offering clients packages that include both proprietary television channels and third-party channels covering all segments of the pay-TV market, with a focus on the premium segment.
In May 2020, CANAL+ Polska launched CANAL+ online, an innovative service designed to meet growing demand for non-linear programming. Except linear channels, the service offers access to on-demand programming such as films, TV series, sports events, lifestyle and programming content for children.
CANAL+ Polska is also involved in film distribution to cinemas through Kino Świat. With a cinema distribution market share of 26.4%, Kino Świat is the leading film distribution company in Poland.
About ADB
For 25 years ADB has been empowering Pay-TV and Telco operators worldwide to provide access to digital entertainment and broadband connectivity.
ADB combines its innovative thinking with long time experience and apply it to create a variety of software products, which, with its hardware expertise, result in complete and efficient system solutions.
Today ADB offer is addressed to Pay-TV and Telco operators, content distributors and hospitality property owners.
For more information, visit www.adbglobal.com/