ADB's Thunder AX3600 broadband gateway is now commercially available on the Italian retail market under ADB's own i-CAN® brand.
Thunder AX3600 is equipped with the latest Wi-Fi 6 technology and a quad core processor that runs ADB's field-proven epiCentro® software.
Thunder AX3600 is compatible with the Modem Libero initiative which makes it suitable for any DSL broadband operator network in Italy.
ADB gateways will be distributed by Technoit S.p.A., the leading Italian distributor of consumer electronics and customer premise equipment (CPE).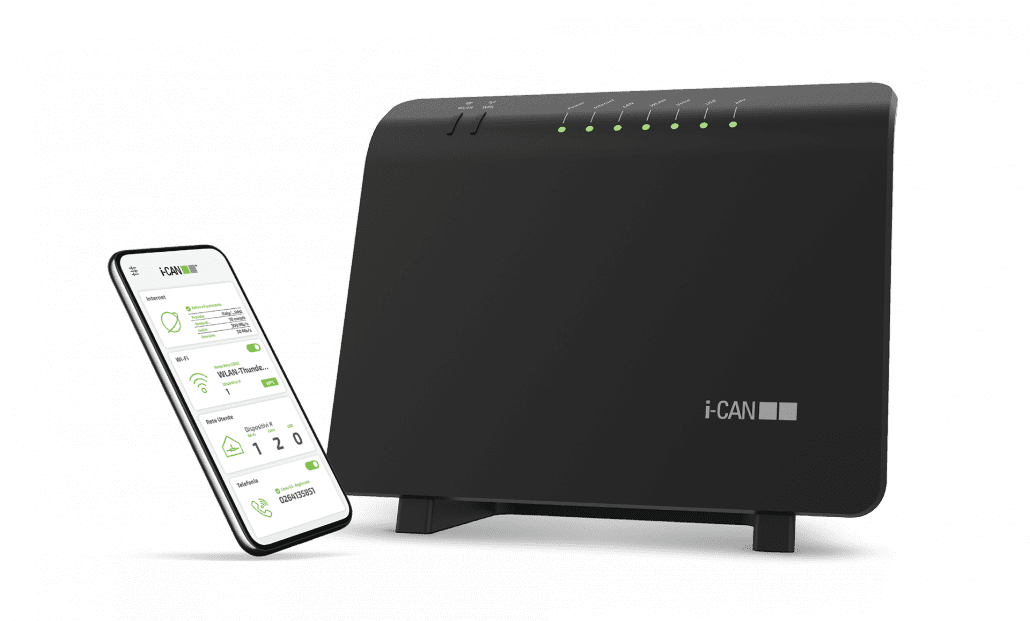 13 October 2021 – Geneva, Switzerland: ADB has introduced its premium Wi-Fi 6 broadband gateways into the Italian retail market. Thunder AX3600 extends ADB's i-CAN® product portfolio, which until now, has been known for its excellent quality digital receivers.
Thunder AX3600 is equipped with the latest Wi-Fi 6 technology and delivers reliable and ultra-fast connectivity – up to 3.6 Gbps – to all wirelessly connected client devices. Further, Wi-Fi coverage across the home or apartment is greatly improved.
The device is powered by a quad-core processor that ensures efficient data processing and low latency, especially important for online gaming and video streaming services.
The solution operates on ADB's i-CAN-branded epiCentro® OS that is field-proven software already deployed on millions of gateways by leading telco operators in Europe. The OS provides an elegant user interface to easily control and manage the local area network (LAN) and the Thunder device itself. In addition, the epiCentro® OS builds in professional security techniques and algorithms to ensure secure connectivity and to protect users from the most common cyberattacks.
"We're very proud to introduce Thunder AX3600 into the i-CAN® portfolio" says Radosław Piórek, Head of Extended Broadband Business division at ADB.
"It will definitely maintain the good reputation of the brand because it is an operator-class premium solution designed to satisfy the needs of the most demanding broadband subscribers. It simply provides everything the end-users are expecting today: ultra-fast Wi-Fi in every corner of the apartment, low latency, secure connectivity and easy management. It will be a very tempting alternative for subscribers looking for really powerful broadband gateway" adds Piórek.
i-CAN® braodband gateways, together with the complete range of i-CAN® digital terrestrial and satellite decoders, will be distributed across the Italian market by Technoit S.p.A., the leading Italian distributor of consumer electronics.
Malgorzata Boroń-Ott, COO and Deputy CEO at ADB says the following:
"Our well-established i-CAN® product portfolio will be now extended with the latest generation of Wi-Fi broadband gateways. Its efficient distribution across the Italian market will be essential and we look forward to the successful cooperation with Technoit S.p.A. to bring the ground-breaking potential of i-CAN® products to the end-users."
Stefano Magagni, Commercial Director of Technoit S.p.A., declares the following "We are excited about this new project with one of the major market leaders and which sees a further enrichment for our catalog. We are always attentive to the trends of the Consumer Electronics market and this new range of products is aligned with the customer demand".
About ADB
For 25 years ADB has been empowering Pay-TV and Telco operators worldwide to provide access to digital entertainment and broadband connectivity.
ADB combines its innovative thinking with long time experience and apply it to create a variety of software products, which, with its hardware expertise, result in complete and efficient system solutions.
Today ADB offer is addressed to Pay-TV and Telco operators, content distributors and hospitality property owners.
For more information, visit www.adbglobal.com/