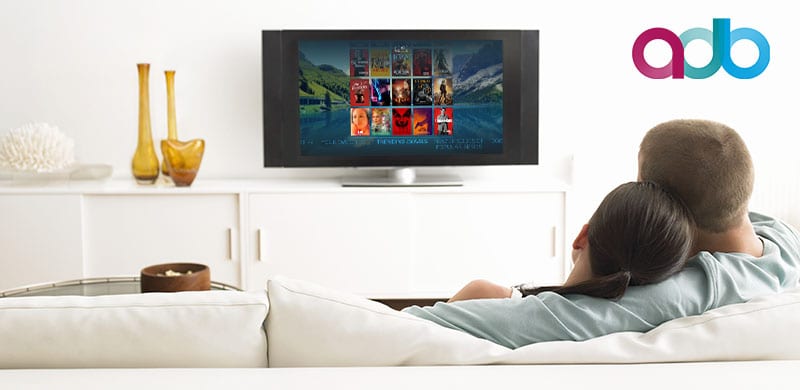 ADB recently presented at CommunicAsia in Singapore and at Anga in Cologne the solution for IP and broadcast operators based on their graphyne2 product line. Announced during IBC2016, graphyne2 keeps proving its importance and benefits for tier 1 as well as smaller operators. Stay tuned, additional advanced value-add solutions will be demonstrated during IBC 2017!
graphyne2 allows an upgrade of legacy systems to include modern services like catch-up, start-over or cloud-based video recording. It was presented on a variety of devices, including ADB and third-party set-top boxes, Android TV based set-top boxes, Android and Apple iOS based mobile devices and tablets, and Android smart-TVs
graphyne2 helps the operator to aggregate the content from different video sources, including external VOD apps, and present them to the user in a modern, personalized and attractive form. The built-in targeted advertisement and direct marketing communications tools, as well as A/B testing and rich customization capabilities, allow the operators to quickly react to changes in consumer behaviour and offer new services and packages.
Operators were very interested to see how ADB has resolved the problem of differing navigation on various screens and how various tasks can be easily performed on the device which is most handy at a given moment. The users can simple zap through channels or view what is recommended to them directly on the TV. This provides very comfortable lean-back viewing. When the user wants to find some specific content, the voice search built-in capability or the second screen guide application through  a mobile or a tablet is available. An intuitive way to show relevant content, descriptions, cast and directors, and which allows to add selected programs to the watch lists or play directly on the big screen via set-top box.
Also, the capability of graphyne2 to run directly on a smart-TV in the bedroom or on an Android TV-based set-top box in a summer house, was very appreciated by all the operators visiting ADB's demo room.
ADB is able to port this solution on legacy hardware, and thanks to the second screen applications, non-performing set-top boxes can be upgraded with modern use cases to be enjoyed by the consumers for the coming years. This capability is especially prized by companies, who have invested heavily into IPTV platforms which are no longer supported by legacy vendors. ADB, with its over 20-years' experience in pay-TV solutions has mastered these challenges and is able to facilitate extending and enhancing operator business models.
For more information, visit https://adbglobal.com/personal-tv-graphyne/
About ADB
ADB provides advanced innovative solutions for personal TV, business TV, broadband and for Internet of Things (IOT). The dynamically evolving "Connected Age" is changing consumer consumption and driving demand for powerful, flexible and cost effective connectivity and services, which ADB solutions address.
The company has extensive proven expertise and 20 years of award-winning industry firsts, enabling operators to build successful businesses and deliver the connected experiences consumers demand. ADB empowers some of the world's leading content distributors, pay TV and broadband operators including A1 Telekom Austria, Border States Electronic, Canal Digital, Cox, Graybar, NC+, Swisscom, Telecom Italia, Telefonica, Telenet, Telenor, Time Warner and Vodafone.
ADB has a dedicated team of over 550 people, including a 400-strong engineering team. The company is headquartered in Geneva, Switzerland and has offices throughout Europe, Asia and North America.
For more information, visit www.adbglobal.com