Cheetah brings together all innovations of Wi-Fi 7 technology, powered by the Qualcomm® Networking Pro 1220 Platform, and ADB's full-featured software, to offer robust wireless connectivity, secure networking and hassle-free network management for businesses, remote workers, and demanding high-end residential users.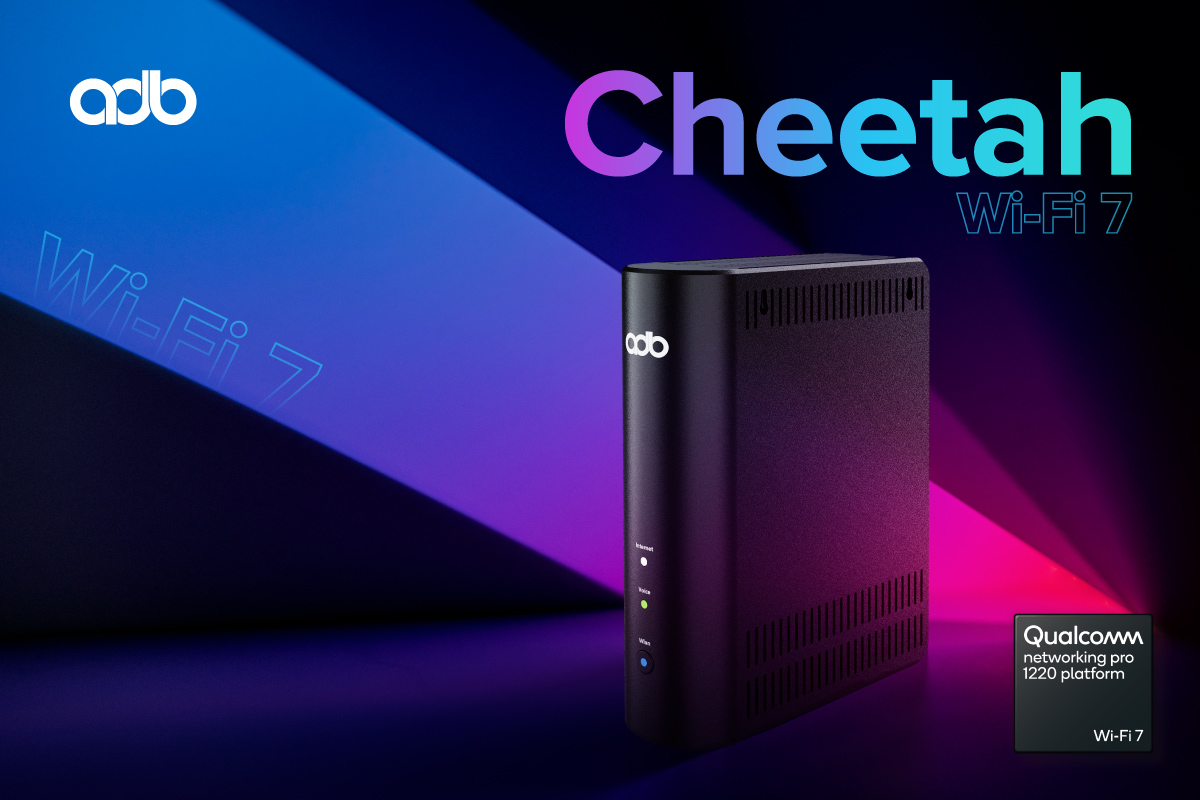 23 February 2023 – Geneva, Switzerland: ADB, the global provider of Enterprise and In-home solutions for Video and Telco operators, announced its first multi-gigabit XGS-PON Wi-Fi 7 gateway, Cheetah. Bringing together all key benefits of Wi-Fi 7, such as 320Mhz ultra-wide channel, 4k-QAM modulation, Preamble Puncturing, and Multi-Link Operation, ADB's newest broadband solution enables Wi-Fi with extremely high throughput (up to 19 Gbps), ultra-low latency, and increased capacity through the most efficient use of spectrum.
The Cheetah, powered by the Qualcomm® Networking Pro 1220 platform, is designed to address new advanced use cases and incredible experiences, including the real-time collaboration of many users with multiple devices, cloud gaming, video streaming and conferencing, and a variety of future XR applications.
Equipped with ADB's epiCentro® middleware, Cheetah explicitly addresses the key needs of today's small and medium businesses and residential markets. It features an advanced QoS engine to ensure optimal data delivery for the most demanding office/enterprise applications. This, combined with 320Mhz channel support and implementation of Multi-Link technology, enables a real-time experience with a close-to-zero latency, essential for use cases such as cloud gaming or VR streaming.
Cheetah ensures robust site-to-site communication (VPN), securely connecting employees working in different branch offices. It provides a reliable connection for people working remotely so their video conferences can be held without freezes and interruptions. And if for any reason, the default WAN connection stops working, Cheetah will automatically use a mobile failover not to disturb users during their online activities.
Ensuring the security and privacy of each home or office network was the ultimate goal of the Cheetah project. Therefore, it protects the entire network with an advanced security shield, so whether it is remote work, online education, social activities, retail shopping, or online entertainment, the subscribers can feel safe surfing online.
Moreover, with the unprecedented performance of the Wi-Fi 7 network covering virtually every corner of the home or office, users can enjoy the full potential of the whole-home gigabit experience and simultaneously stream 4K or 8K videos to multiple devices.
For users who want to have a constant view of what's happening in their network, ADB offers an intuitive i-CAN Home app. It is an efficient home/office network configuration and management tool that also assists in Cheetah's installation. And if anything goes wrong, it plays the role of first-line customer support and guides homeowners to the right solutions.
For operators willing to provide professional and proactive support to their subscribers, including Cheetah's users, ADB offers epiCure®. It's an excellent monitoring and troubleshooting tool, allowing care agents and network operation teams to deliver accurate 1st and 2nd line support immediately or fix issues even before customers notice them. With epiCure®, technician home visits and CPE swaps are significantly reduced, Customer Care costs are lowered, and service downtime is shortened.
"Cheetah marks a new era of connectivity and premium broadband experience that will be appreciated, in the first place, by small and medium businesses, as well as by most demanding residential broadband consumers. It combines all innovations of Wi-Fi 7 standard, which is a huge step towards multi-gigabit speeds, intelligent usage of the entire Wi-Fi network capacity, and latency reduced almost to zero." – said Radek Piorek, Head of Broadband Product Group at ADB.
Cheetah's samples will be available for testing in H2 2023.
Cheetah will be presented at MWC 2023 tradeshow in Barcelona, from Feb 27th to March 2nd, at Qualcomm's booth 3E10, in Hall3.
About ADB
ADB creates and deploys the most complete and efficient system solutions to bring the best video experience and broadband services to the Gigabit home and enterprise environments.
We ensure that ADB devices and software converge perfectly to deliver the best customer experience. We enable operators with top-tier back-office tools that provide extensive visibility, support, and control of their in-field deployments.
ADB's offer is addressed to Pay-TV and Telco operators, content distributors, and hospitality property owners.
For more information, visit www.adbglobal.com/
Qualcomm is a trademark or registered trademark of Qualcomm Incorporated.
Qualcomm Networking Pro Series platforms are products of Qualcomm Technologies Inc. and/or its subsidiaries.