Thunder AX3600
Fibre-Optic Multi-WAN Gateway
for High-end Consumers
and Small & Medium Businesses
Thunder AX3600
Fibre-Optic Multi-WAN Gateway
for High-end Consumers
and Small & Medium Businesses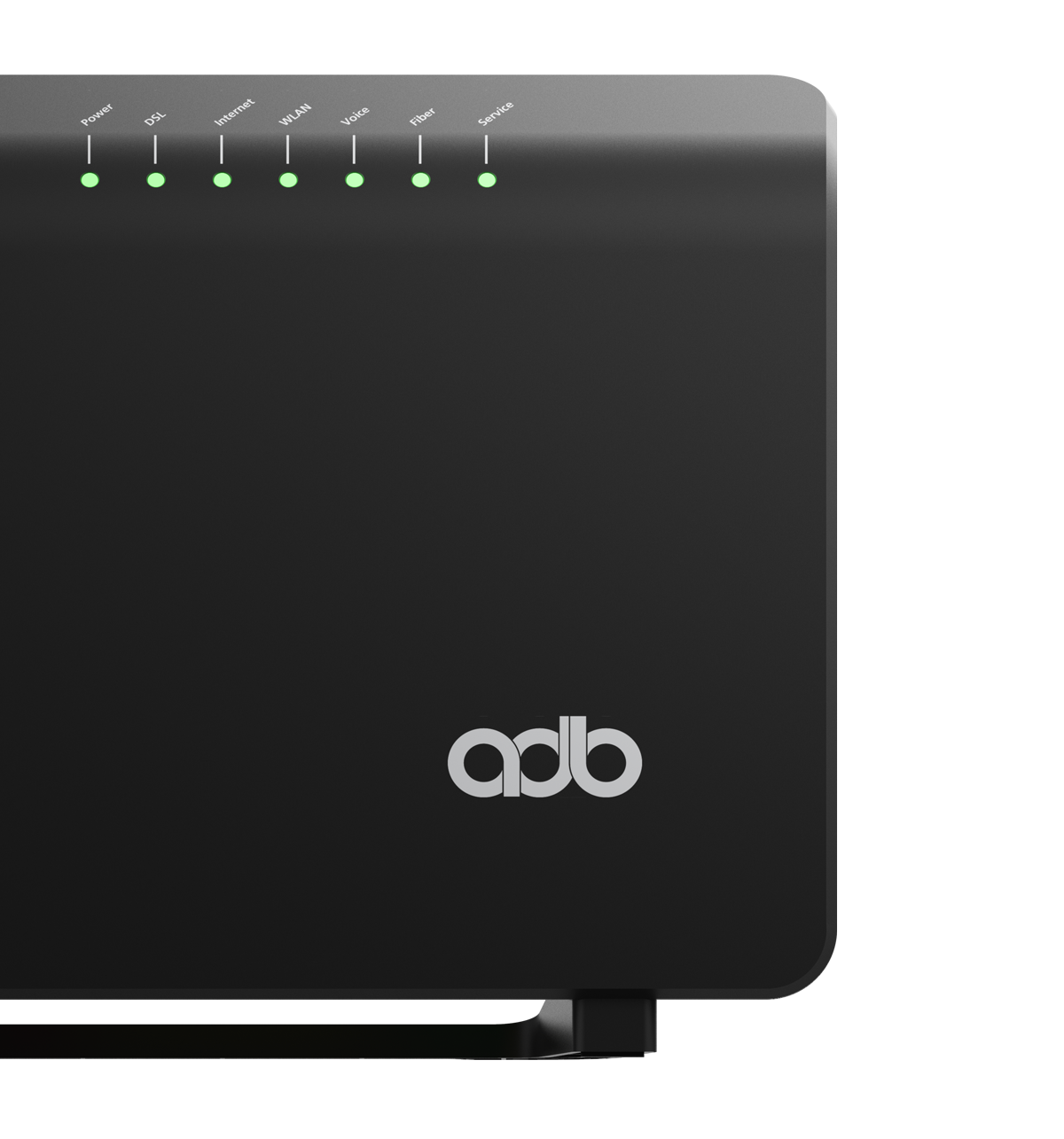 Ready for multiple WAN access technologies
SFP+ cage for fibre point-to-point or GPON up to 10 Gb/s symetric speed (XGS-PON)

VDSL/ADSL2+ modem on-board, supporting EVDSL profile

GPON 2.5/1.25 Gb/s modem on-board to enable the migration from xDSL to fibre-optic network

2.5 Gb/s Ethernet port for high-speed connectivity in LAN or for connection to an external high-speed modem
Top-class Wi-Fi 6 experience with speed up to 3600 Mb/s
Dual band 2.4 and 5 GHz (AX3600) and 160 MHz channel support
EasyMesh™ support
Accelerates Businesses' operation
Equipped with 2 FXS ports for voice services

Enables configuration over a browser interface, CLI scripting, and via management protocols (TR-069/TR-369)

Supports multi-user profiles with local and Radius authentication

Provides multi-level security dedicated to SMB, that includes secure remote access over the Internet with VPN IPSec, advanced Command Line Interface, antiphishing, advanced parental control

Supports advanced routing protocols dedicated to SMB (BGP, VRRP, OSPF, RIP)
Uses Linux containers and dockers for secure launching of 3rd party applications

Features Multi-WAN failover mechanism for Internet Always-On

Enables printer service and media sharing that lets users enjoy their music, photos, and videos on connected playback devices

Provides Zigbee radio for Smart Home applications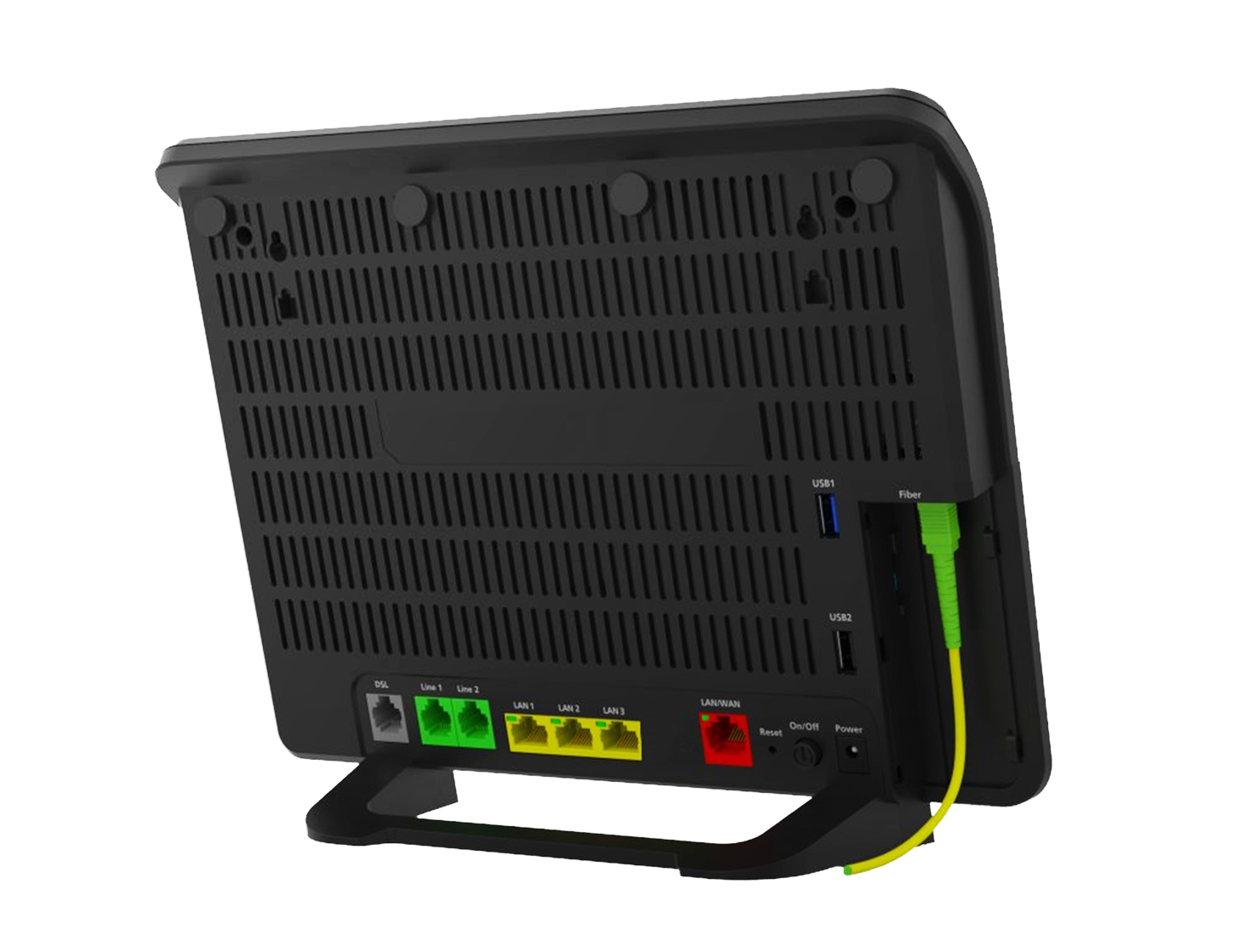 Slick Design
with Modular architecture
that fits different access networks
Select your preferable configuration
Built-in
With a variety of available built-in options,  Thunder AX works in any xDSL, GPON, and Ethernet network, and will provide connectivity to all smart home devices using ZigBee protocol.
Expandable
With an embedded SFP+ Cage, Thunder AX can be deployed in any access network including xDSL, Ethernet, FTTH P2P, and XGS-PON.
Two flavours
Whether for business customers or residential users, Thunder AX is available in two versions. A beautiful horizontal casing, without any external antennas, that looks elegant in every interior or a solid book-like housing that will be appreciated by every professional.
Thunder AX is a real 10 Gb/s device
fully exploiting capabilities of XGS-PON network
Equipped with the

Qualcomm® Networking Pro 1200 platform

,

Thunder AX delivers the ultimate experience to end-users. Deployed in XGS-PON network, it provides up to 10 Gb/s transmissions speed directly to the connected client devices. It fully exploits efficiency of Wi-Fi 6 and 10 Gb/s Ethernet LAN network.
Offering smart and ultra-fast wireless connectivity
Best performance and connectivity conditions for the end-users

Almost unlimited number of managed connected Wi-Fi clients

Intuitive mobile app to provide your customers with a superior Wi-Fi service on all devices

Easy setup, seamless roaming, and network self-optimization to ensure best Wi-Fi experience

Stable and reliable video streaming over Wi-Fi thanks to EasyMesh™ support

Enhanced ACS (Automatic Channel Selection), band steering and Airtime fairness

160 Mhz-wide Wi-Fi channels usage to provide real gigabit transmission speeds

4 x 4 multi-user MIMO

Full compatibility between Wi-Fi 6 and Wi-Fi 5
With focus on
Small & Medium Businesses
Thunder AX.
Highest security
and efficiency for businesses.
Powered by epiCentro™, a full-featured, scalable middleware for Residential Gateways, Integrated Access Devices and Small Business Routers.
Deployed on 30+ million broadband CPEs worldwide.
Inter-office Connectivity
Secure site-to-site communication (VPN IPSec) with speed up to 5 Gb/s to connect more employees working in different branch offices.
SDN enables users to securely connect to applications in the cloud and frees small and middle-sized businesses from investing in powerful and expensive equipment.
Ethernet LAN/WAN with speed up to 10 Gb/s is efficient enough to connect the entire company's private network and its devices.
High-quality IP/HD and analogue telephony services are essential for the companies' daily operation.
Powered by epiCentro™
Deployed on 30+ million devices
epiCentro is a full-featured, scalable software running on all ADB broadband CPEs that provides advanced Wi-Fi, voice and data capabilities.
It accelerates deployment of new applications and services thanks to its modular architecture and multi-service execution environment.
Includes consolidated security framework with: strong IP security including robust firewall filtering and DoS protection, secure wired and wireless network connection for client devices, parental control, and antiphishing protecting against constantly evolving cyber threats.
i-CAN HomeCompanion App
Puts subscribers in control of their home/office network
The application provides users with the visibility on their network and guides them step-by-step to self-install broadband devices and services.
It notifies users of any anomaly on the network or connected devices and then helps to find the right solution.
Proactive care with epiCure™
Designed to support Operator's Customer Care
A monitoring, diagnostic, and analytics system for broadband and video domains helping Operators to ensure the highest quality of service and reduce customer care processes cost.