ioCentro™ – IoT Solution for connected appliances
What is ioCentro?
ioCentro is a modular, cloud-based service designed to help appliance and HVAC vendors quickly bring to market a connected appliance strategy – without requiring them to become an IoT expert or spend time and efforts developing a solution on their own, from scratch.
ioCentro has the key to your digital transformation
Appliance manufacturers face a digital transformation opportunity where they can move from the status quo to a connected world that will transform their business, allow them to provide superior consumer experiences and thrive in the competitive market. However, the timeframe in which to pursue this opportunity is short, as competitors are also moving forward with Connected Appliance strategies.
ADB is the Solution: ADB joins customers on their digital transformation journeys, simply helping appliance manufacturers differentiate smart appliances in a competitive industry. We offer purpose-built, highly customizable solutions distributed as a cloud-based service that enable manufacturers to bring connected products to market quickly, easily and cost-effectively without investing the time and money to become "IoT experts." Through recurring data collection, ADB helps manufacturers continue that differentiation over time by collecting consumer data and then evolving appliances according to that customer feedback.
Key benefits
ioCentro helps manufacturers transform their businesses by simplifying entry and sustained growth into the Smart Appliance market
ioCentro dramatically changes product creation process and cycle, yielding much more user-driven products with IoT and data analysis
ioCentro is a Services and Solutions suite designed and built by experts specifically for the Smart Appliance market
ioCentro elements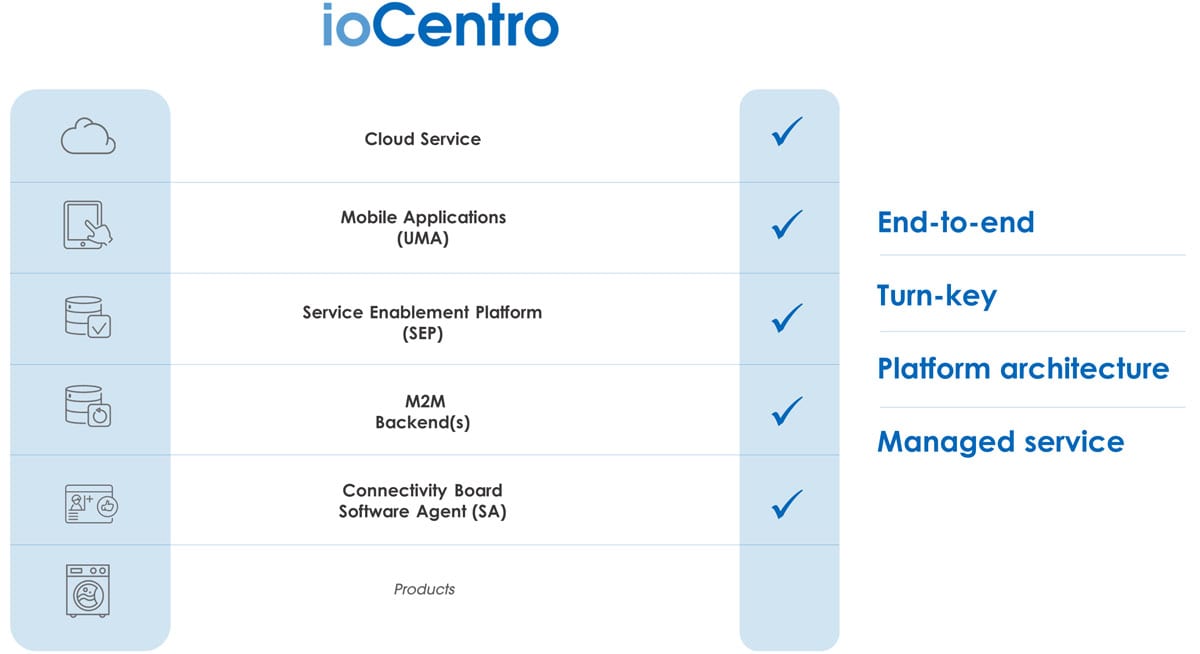 ioCentro is a complete IoT solution that includes Connectivity + Intelligence + Action tools:
Connectivity: Connectivity Board Software Agent connects appliances to internet via pre-integrated connectivity boards.
Intelligence: The Service Enablement Platform (SEP) is the core building block of ioCentro and centralizes all intelligence onto the cloud. Sends commands, collects, stores and prepares the data, including content for the Content Management System (CMS). Manages device and user administration.
Action tools: Mobile Applications, Analytics Dashboards and Admin Tools are specifically designed for appliances, and delivered as a cloud-based service.