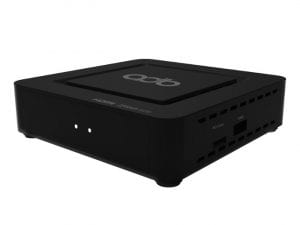 Ultra High Definition IP set-top-box
HIGHLIGHTS
Powerful platform with optimum balance of performance vs. cost
Supporting HEVC 4Kp60 Ultra High definition video experience
Ready for advanced IP and over-the-top services
Integrated with leading middleware and DRM players
Extendible for PVR functions over USB
Embedded WiFi 802.11ac and Bluetooth interfaces
ADB-2670WF is a highly performing IP STB offering a cost-effective solution combined with powerful capabilities of SoC (14k DMIPS). Designed as an optimized device for delivery of UHD TV multicast channels, Video-on-Demand (VoD) and a wide range of latest generation multimedia and over-the-top services.
ADB-2670WF is compatible with up to UHD television transmissions across all industry standards, including MPEG-2, MPEG-4/H.264, HEVC/H.265, VP9. In addition to HDR (High Dynamic Range), HDR-to-SDR conversion is supported.
An integrated WiFi interface 802.11ac dual-band supports multi-stream video reception in wireless networks. A Bluetooth (BLE) interface allows for integration with RF BLE remote controls not only for regular remote-control functions but also for voice recognition functionality.
Supporting a range of middleware and DRM systems, ADB-2670WF is easily customized to fit in multiple IP TV ecosystems. It includes pre-integration with ADB graphyne2 as well as third-party solutions.
ADB-2670WF comes with ADB default software stack supporting HTML5 browser, the latest internet video streaming technologies such as HTTP Live Streaming (HLS) or DASH. Depending on the operated software/middleware the supported features include home networking, open Internet, over-the-top services, as well as regular walled garden services from pre-integrated IPTV ecosystems.
By means of an external USB HDD, USB memory stick, or micro SD card the end user of ADB-2670WF can enjoy a local function of Recording, Pause-TV and Time-Shift.
The software upgrades over IP connection make ADB-2670WF easily upgradable for new software features as well as allow for migration between different ecosystems in the field.
TECHNICAL SPECIFICATIONS
System resources
SoC: quad core ARM; 14 0000 DMIPS
DDR4 2GB default, optional 1GB
NAND flash: 512MB, optional 256MB
Software
Operating System: Linux
Browser: Chromium
Middleware: graphyne2, Minerva (others upon request)
DRMs: Verimatrix Ultra, PlayReady, Widevine
Copy protection: HDCP 2.2, CGMS-A, DTCP-IP
Back / Side Panel
1 x HDMI 2.0a
1 x SPDIF optical
1 x Fast Ethernet 10/100 Mbps
1 x mini Jack (analog A/V)
1 x USB 2.0
1 x micro SD reader
Front Panel
2 x LED bicolor (red/white)
1 x IR 38KHz
Embedded
WiFi module 802.11ac, 2.4/5GHZ, 2Tx2R
Bluetooth (BLE 4.1)
Video
MPEG-2: MP@HL
MPEG-4 p10 / H.264: MP@L3.1, HP@L5.0
MPEG-4 p 2: Advanced Simple Profile
HEVC / H.265: MP@5.2 (resolution up to 4096×2160@60fps)
VC-1: SP MP@HL, AP@L3
VP9: 10-bit (resolution up to 3840×2160@60fps)
HDR to SDR conversion
Video output up to 4Kp60 (2160p, 1080p60, 1080i, 720p, 576i/p, 480i/p)
Audio
MPEG I Layer 1, 2, 3 (MP3)
MPEG-2 Layer 2
AAC-LC, HE AAC
Dolby Digital (SPDIF, HDMI)
Dolby Digital Plus (HDMI)
Certifications & Conformities
RoHS
HDMI
Dolby Digital & Dolby Digital Plus
CE marking
FCC & UL marking
Performance
Deep standby power: <0.5W
Operating power: 10W (typical)
Compliant with European Union directive for standby and power consumption
Accessories
PSU wall-mount type
Quick Installation Guide
Option: Remote Control and batteries
Option: Audio/Video cables
Option: Ethernet cable
General Data
Operating temperature range: +5 to 40°C
AC input voltage: 90 – 264V, 50/60Hz
Dimensions: 120x120x30 (mm)
Plastic housing